The silver bowls, cutlery, and coffee sets on view in this exhibition were found in the attic of a Vassar building constructed in 1896. Their provenance is largely unknown, a mystery which motivated their study: how did this collection come to be? To answer this question, and learn more about the life-story of each object's use and discard, they were examined using the techniques of historical archaeology. 
The anthropological, rather than art historical, approach of this exhibition is not a typical one for the Art Center. To highlight this departure, the silver—primarily hollowware related to table service—is presented not as fine art, but as artifacts. The sampling of objects chosen for investigation, most of which date from 1900 to 1950, bear identifying characteristics such as monograms and makers' marks. Use wear, breaks, and repairs show how they were utilized, with additional context provided by historic photographs and archival records. Grouping of various items, including some with works from the Art Center's collection, reveal the means by which the methods of historical archaeology can illuminate various characteristics of the pieces, and be applied across time, space, and discipline.
As luxury artifacts, these silver objects are manifestations of past peoples' aspirations. Together, they tell us about the people who owned, used, and donated them to Vassar. While the decorative arts in Silver in the Attic may not be exceptionally old or even rare, to an anthropologist, they are proxies for people whose lives brought their prized possessions to rest in a Vassar attic. 
This exhibition is an interdisciplinary collaboration between the Frances Lehman Loeb Art Center, Kelly Bernatzky '19, Emma Wiley '20, and April M. Beisaw, Associate Professor of Anthropology. It was held in the Focus Gallery spring, 2019.
Basic Tools for Archaeological Silver Analysis
Close inspection is necessary to interpret the artifacts in this exhibition. One example is this butter-pat dish made by the Gorham Manufacturing Company (at left). The word "Gorham," along with three symbols underneath, make up the company's maker's mark. The different permutations allow for narrowing down an object's date of manufacture.
The lion illustrated "Gorham," (at right) for instance, changed slightly over time in design and orientation. The lion on this dish, facing right and inside a small box, indicates that this object was manufactured in the twentieth century. More specifically, between 1868 and 1989 Gorham created symbols to denote each year of manufacture.
The small ax symbol on this dish is a date code specific to 1932. Also visible is the word "sterling," which shows the material of the dish, and the number "443," likely a pattern number. While this information does not tell us when, where, or how the piece was used, it provides the basis for understanding the object's creation.
Similar but Different: Marks and the Information they Provide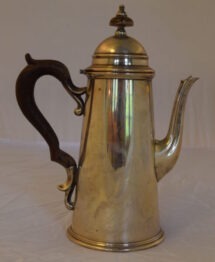 At a glance, these two coffee pots seem very similar. They are both made of silver and share stylistically analogous handles and spouts. Yet, archaeological techniques reveal that the amount of information available on them is in fact very different. The coffee pot, above at left, has a maker's mark which reveals that it was manufactured by the New York-based company Black, Starr & Gorham (at right).
This company changed names multiple times, and this variant dates the pot to between 1940 and 1962. The base of this pot also bears the word "Sterling" (its material), as well as "1 ½ pints" (its size), and "9486" (its pattern number). Meanwhile, the coffee pot at right does not have a maker's mark or any other information incised on it. Although the difference in identifiability alters the interest these pieces hold to anthropologists, it does not change or provide insight into how these pieces were valued during their use-life.
Since at least the fourth millennium BCE, people have placed value on silver, which has prompted its use in a variety of significant contexts. On display were multiple coins from Greek and Roman civilizations dating to before the common era, which exemplify silver as a practical, monetary artifact. Also on view was a silver-gilt icon from nineteenth-century Russia, an example of silver being used as a medium in fine art (at left). Yet the value placed on different types of silver is not uniform. The marks found at the base of three domestic vessels found in the Vassar attic provide a comparison of various grades of silver. The serving stand is made of sterling silver (a specific percent alloy of silver), the gravy boat is silver-soldered (a process which joins higher quality hollowware parts) and the candlestick is E.P. on brass (indicating that the base metal is brass, with an "electroplated" finish).
Identifying Common Forms: Silver and Antiquity 
While the silver objects in this exhibition mostly date to the early 1900s, elements of their design echo Greco-Roman antiquities. The Champagne chiller, for instance, has a shape similar to an Apulian red-figure bell krater from fifth-century BCE Italy. Another example is the date code on the bottom of the coffee pot, which indicates that it was manufactured in 1925 and is known as a "Hermes Foot." This symbol comes from the god Hermes (or Mercury), who was often depicted with winged feet, as seen in a sixteenth-century engraving by Hendrick Goltzius. Details like these show the lasting influence of previous cultures kept alive in our household objects.
Archaeology & Social Networks 
In addition to makers' marks, date codes, and other indications left on the material artifact, the archaeological process requires historical research. These coffee and tea pots both have emblems with the letters "U.S.M.A." This acronym is for the "United States Military Academy," commonly known as West Point, located a little over 30 miles from Vassar. While this emblem initially confused researchers because it did not match any of the Academy's official emblems or seals, correspondence with the head of the West Point history department and director of the West Point Museum revealed that the emblem is the crest of the West Point Class of 1917. Research in Vassar records indicated that these two pieces are most likely part of a larger set given as a wedding gift to Almira L. Troy (VC 1920) and Walter W. Warner (USMA 1917). This hypothesis aligns with the double monograms as well as the date codes found on the artifacts. Approximately a century later, scholars from Vassar and West Point are brought together to collaborate and uncover the life stories this silver has to tell.
The items in this case contain an extra layer of identifiability and history in regards to the College. They all have a "VC" ("Vassar College") monogram. In the early twentieth century, such official Vassar silver would have been used in several different locations. For example, the salt shaker would have been used for daily meals that were conducted in the dorms. Archival photographs show similar silver being used in the Senior Parlor, a senior students' space in Main Building that was a staple of Vassar life from 1872 to 1943. By examining material culture like these objects, contemporary audiences are allowed to glimpse a layer of Vassar history that no longer exists.
Can You Unlock A Mystery? 
In historical archaeology, it can be a matter of chance that a particular individual is able to unlock the information held by an object. For example, during fieldwork, novice archaeologists may recognize different types of nails, but not understand what this difference means. An expert in architecture could discern more from the nails and hypothesize about the structures that once stood. Throughout our silver research and analysis, we constantly drew from people and sources outside of archaeology to understand this collection. Consulting others is an integral part of the archaeological process when archaeology is done as a form of anthropology. 
As a member of the Vassar community, we invite you to share your knowledge and expertise with us. Please leave a comment with your interpretation of this artifact.  We know that it is a bowl, but we are wondering what it might have been used for and what the maker's mark might symbolize.